2 of our aerialists flew high above the guests at this stellar Gala in SF
Our starry nights themed Living Table was a fanciful Dessert Skirt for the dancing in the Crown Room after the main event.
Catalyst Arts worked under celebrity event planner Colin Cowie & Todd Events To bring unique entertainment to the SF Opera's opening night gala at City Hall.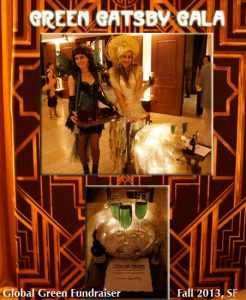 On October 11th the annual Gorgeous & Green Gala – this year themed 'Green Gatsby' was held at the Bentley Reserve in San Francisco.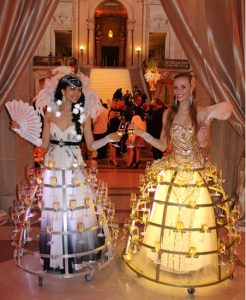 2 of our Elegant Champagne Skirts at Humanitarian Gala at SF City Hall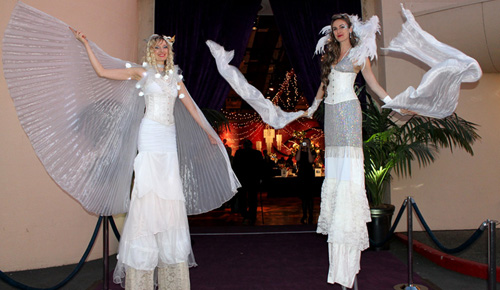 Catalyst Arts Stilt Walkers greeting at Marin Valentines Ball fundraiser Gala in 2016
International Special Events Society
Catalyst Arts was one of the Entertainment Sponsors for the International Special Events Society Annual Gala for the Northern California Chapter in July 2012.
We had an Eventertainment Package that suited the Old Circus theme including two stilt walkers, the Become The Art mobile photo opp cart, and the Dessert Skirt Strolling Server.
Example of an Environmental Gala Eventertainment Package
Bay Institute 30th Anniversary Gala, October 2011
Catalyst Arts conceptualized and produced 4 ambient costumed characters to suit the theme and intentions of the client.
Package includes production of costumes, booking entertainers to animate the costumes, and complete customization of imaging, messaging, and presentation.
Example of an Small Gala Eventertainment Package
Women on The Rise Fundraising Gala, May 2011
A Serving Skirt lady greets guests and offers them wine, mints, or an uplifting quote. She later helps to guide the guests down to the ballroom.
At the entrance of the ballroom the stilt walker is fanning rose petals onto guests as they enter… making them feel like royalty.
We costumed and body painted and booked 9 entertainers including 4 living statues, 2 stilt walkers, & 3 fire dancers to animate the 'Garden of good & evil' theme.
Click HERE or Above to see the gallery of images, video & press of the event.
School Fundraiser 'Gatsby' themed Gala– Spring 2014
We provided 2 flapper showgirls to greet guests with bubbly and bring excitement to the auction, plus a couple swing dancers and a Photo Studio.
Testimonial
"Thank You Catalyst Arts Entertainment for bringing your creativity and beauty to the San Francisco Bay Gala! You were a huge hit with our guests, our board, and our staff! The feedback has been amazing and we look forward to what inspiration you will bring to next years event! As an event producer, I especially appreciate how easy you are to work with. You listened to our vision and created characters and ambiance exactly how we imagined. The entertainment value you bring is priceless. I would recommend you anytime!"
AJ Pell, Peridot Events