Welcome my friends & allies– It's my birthday & time for an overdue Update…
I apologize for not staying in better touch.  Know that I LOVE YOU.
What have I been up to??
Well, the short answer is I have been passionately focused on recreating my Catalyst Arts business into a viable events & entertainment company.
(But I am a multi-faceted creature if there ever was one, so here are nicely organized bullet points of my activities of late.)
I am working on a Catalyst Arts business plan as part of a 3 month business training through Women's Initiative. (which rocks.)
I have conceptualized a new batch of really fantastical and highly interactive characters tailored to specific kinds of events, and the costumes are being sewn into reality this very month. (and soon i will be hiring and training charismatic talented ladies to embody these characters at events)
I am a couple months into a PR/marketing internship in SF with the International Association of Business Communicators. I spend 2 days a week in a cubicle learning through experience how the big players do it.
I am face painting a lot more (see album on fbook) and still running the MagiKidz biz- playing professional dress up and doing cute activities with lil ones parties and such… plus have brought a few new entertainers on board and am booking them out. I am producing kidz zones & villages at multiple events this sunny season- if interested peek in at www.magikidz.com
I have adopted (rescued) a 7 yr old super darling tiny white chihuahua (with many names) and her and I curl up and read sci fi fantasy novels at night once I finally manage to put my laptop away. On the weekends Hunter visits from his scholastic life in Santa Cruz and we go on sweet dates.
I have done a grand makeover on my main web site- www.audettesophia.com
Please pop in for a peek.
I am working on the new & improved Catalyst Arts site. Navigating branding & messaging & photo shoots and all that… stay tuned and if you aren't already on it– please join the MUSELETTER List- for infrequent but inspiring updates.
As an attempt to remedy my too much geeking out not enough socializing equation– I have a standing invitation Creative Co:Lab night at my house in North Oakland on Wednesdays (email or call me for details) and me & some friends will be doing a regular Lakeside Sundays thing behind fairyland at the bandstand, Lake Merrit– to picnic and play games and connect with eachother in a playful easygoing context. Look up Lakeside Sundays on Facebook.
COUPLE OF UPCOMING PUBLIC EVENTS:
hope to see you!
March 8th-
Face Painting 6:30-9:30pm at fabulous & *free* Mardi Gras party @ The Mystic Theater in Petaluma (Delhi to Dublin playing!) Come get your face painted and celebrate fat Tuesday with me Louisiana style!!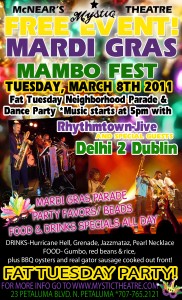 _________________________________________________________
March 11th-
Face & Body Painting from 9-11pm in the chill tea lounge space & then Mask dancing & 'light nucleus' projection dancing with the Alchemystics (yes, that is the name of my stilt dance troupe, and happens to be very similar to the name of the event coincidentally)
ALCHEMYSTIK
Friday, March 11th 2011
At Public Works- 161 Erie Street @ Mission in San Francisco, CA
9pm to 5am 21+
$15 Presale or before 10:30pm, $20 after