EXPERIENCE DESIGN & ENTERTAINMENT DESIGN
VIP AREA ZONE PRODUCTION
Customized Novelty Entertainment & Interactive Production for Brand Activations, Launch Parties, Event Marketing Campaigns, Music Festivals, Corporate Events, & Parties.
FEATURED VIP AREA PRODUCTION PROJECT- Electric Daisy Carnival- Beauty & Body Art in the VIP featuring the Airhip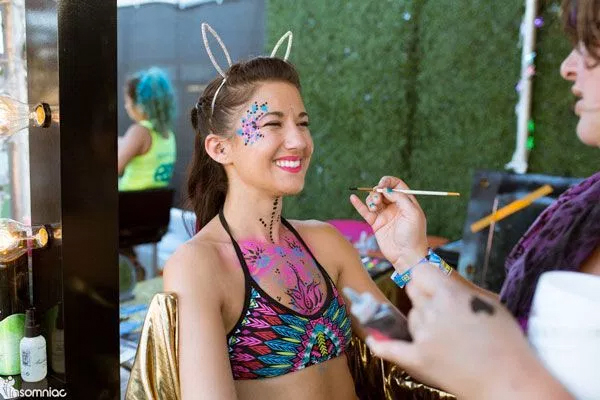 We were brought in by the legendary production company Insomniac to their 20th anniversary Electric Daisy Carnival Vegas in June 2016 to the VIP area at Kinetic Fields.
Our team of 6 professional face & body painters & one hair artist provided complimentary sparkly adornments for excited party goers. Our one of a kind 25 ft airstream makeup trailer was on site for makeovers as well. For 3 hot Vegas nights we painted hundreds of thrilled guests.
A recent novelty event we did was an exclusive private birthday party in the Penthouse of the Fairmont Hotel. Our entertainers for the evening included a golden champagne skirt hostess on the patio & body painted birds of paradise ballerinas with a giant golden cage.
(booking via Entire Productions, photos Clane Gessel) Click Here to see Gallery
US PREMIER OF LUZIA by CIRQUE DU SOLEIL
We were hired to provide entertainment for the premier of Luzia in both San Francisco & San Jose.
We provided customized interactive characters that helped to animate the vibrant latin aesthetic of the show. We were also able to do 3 other events for them while in town including some animation for their VIP area.
Click Here for Gallery
Our CHAMPAGNE SKIRTS are also a popular addition to a VIP Area or VIP Reception Experience. Here our Deluxe gold skirt champagne hostess served complimentary champagne to guests in the VIP at SF Nightlife New Years Eve Party at the W Hotel in San Francisco.