CORPORATE EVENTS

We are great at adding just enough wild beauty and excitement to company parties and corporate events while also
keeping it clean, elegant, & classy.
We have brought live entertainment & experiential elements to hundreds of corporate events, company holiday parties,
& customer appreciation events.
Here are a few examples:
We provided all the Specialty Entertainment for this elaborate customer appreciation party for CFP… including aerialists, shadow dancers, contortionists, antoinettes, stilt walker, & light up costume for DJ.
Special thanks to Annalee of Bash Creative, Ideas Event Styling, & Dave Edwards.
SOME TESTIMONIALS FROM CORPORATE EVENT CLIENTS
"If you are looking for entertainment that is genuinely interested in meeting the needs of their clients, look no further then Audette Sophia. She is a rare find – and enabled me to produce Grand Openings and Client Events of my dreams and within my budget and price range. I highly recommend Audette to anyone in the market for making a Special Event Extraordinary."
– Steve Speech, Mariott
"Catalyst Arts added so much to our event! The fire dancers were captivating and the Burmese python (and beautiful handler!) delivered the edgy, rock & roll feel we were looking to capture. The impromptu go-go dancing was an unexpected and entirely welcome bonus! As an event planner, pre-event communications are equally important to the success of an event, and Audette Sophia provided prompt responses to my inquiries, helpful suggestions on costuming and was easy and pleasant to work with. I look forward to using Catalyst Arts for many more events in the future!"
– Allison Fox
"Catalyst Arts provided their Airship for our Corporate Holiday Party. It was a huge hit! Our guests and team really enjoyed the Airship, a unique mobile photo studio. The Catalyst Arts team was professional, responsive and wonderful to work with. We thank them for making our event so memorable. "
– Numi Tea
3 years of Customizing Body Painted Characters to the theme of the year for CSI Corporate Party at SF City Hall.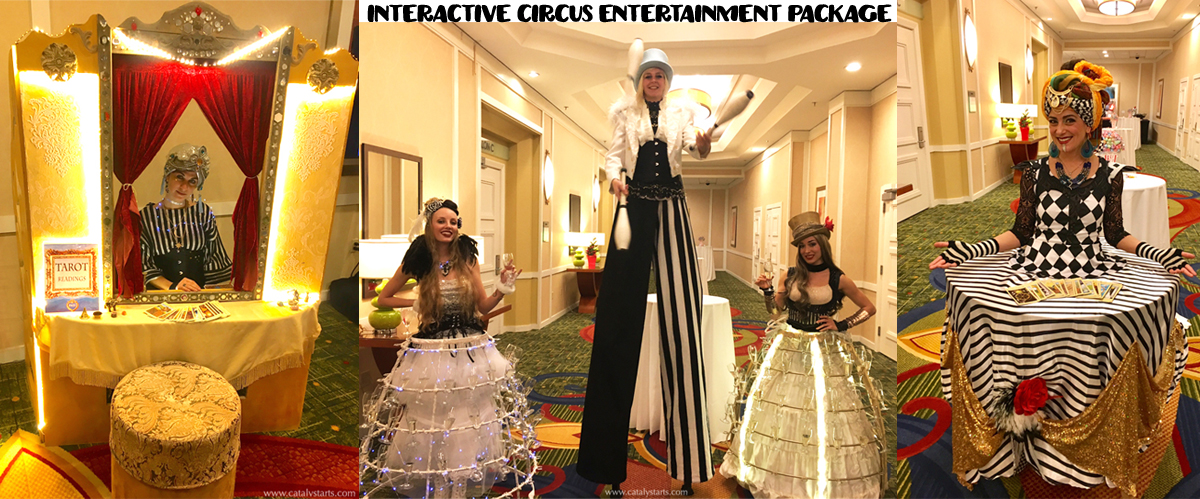 Circus themed Entertainment package for Coupa Software Holiday Party in 2016
Included 2 tarot readers, 2 temp tattoo techs, 2 champagne skirts, & a stilt walking juggler!
A WILD CUSTOMER APPRECIATION PARTY
CFP Rock n Roll Bash: A Client Appreciation Event from A Plus Tree, Inc on Vimeo.
We were hired by Olive Events to bring some excitement to a Company Appreciation Party for Commercial Fire Protection. We provided a mysterious Snake Dancer & a Scintillating Fire Dance Show (at 45 sec in on the video). Since that event we have provided the entertainment for 2 more years of their same parties.