We have always been obsessed with elevating events via interactive elements
& entertainment with an experiential lean.
Now we're growing a vibrant Experiential Division specializing in Installations, Activations, Immersive Media & Art Experiences.
We love to partner with Experiential Marketing companies or directly with the brands themselves to enhance an existing activation or to experience design a new one & animate it with live entertainment & interactive elements.
Below you'll find some visual case studies, but our special sauce is creating utterly custom experiences
for your unique event/theme/brand/intent
We designed & produced multiple themed interactive activations & media zones for this Superhero themed event for a biotech company.

  Our Experiential production scope included a full Virtual Reality zone with a beginner-friendly superhero training option & a more advanced multiplayer experience, a dozen costumed characters from scientists to superheroes, interactive installations, & a science themed set with moving media attendant.
 Planner client is Frosch. CASE STUDY coming soon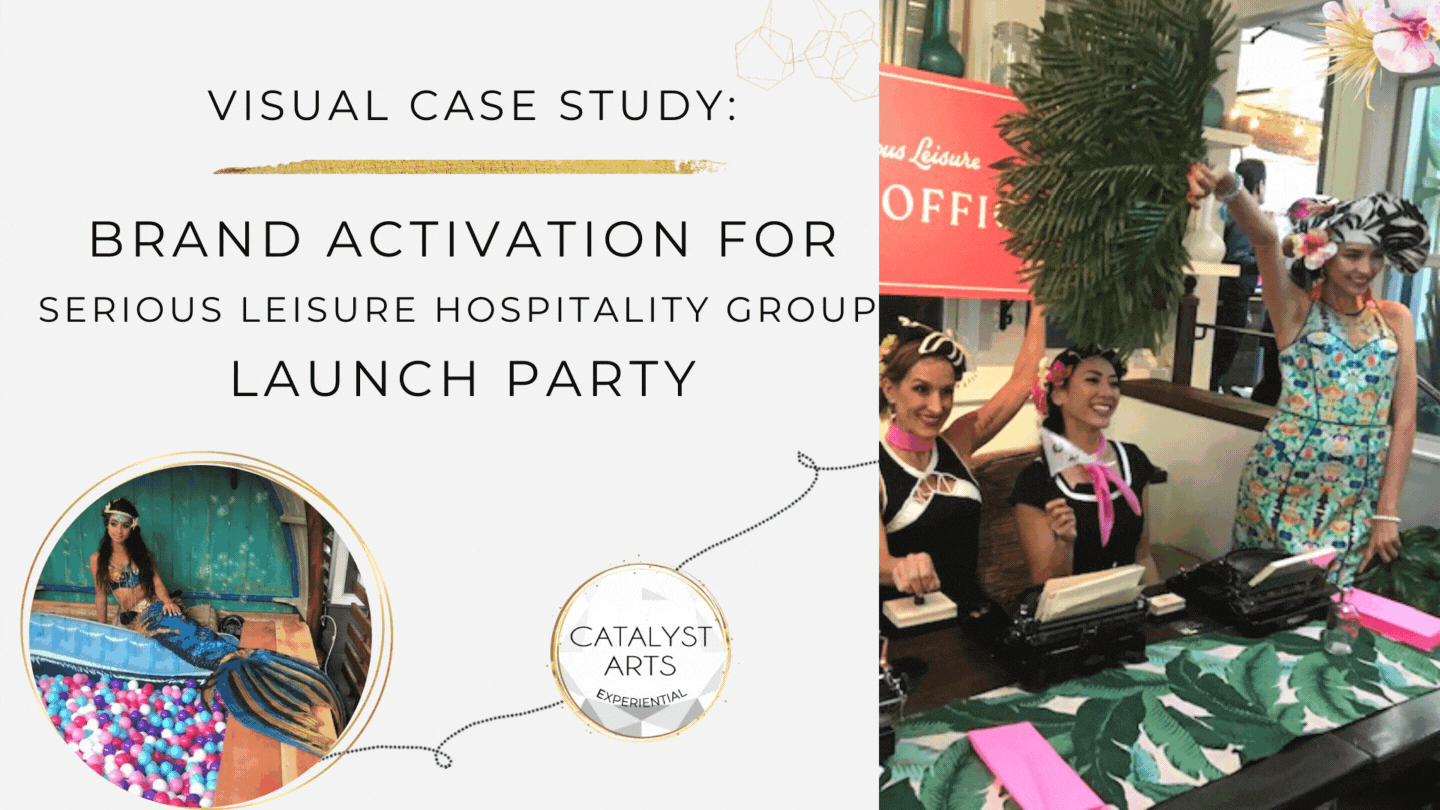 This was a very fun launch event spread over 3 venues in San Francisco & we had costumed characters or activation elements at each.
The vibe was fresh & playful & we loved helping bring it to life. 
Note- client is now called Palm House Hospitality, not serious leisure

We created an Augmented Reality Activation at a VIP Relaunch Event for an iconic resort in Wine Country called the Flamingo. (in 2021)
Guests were encouraged by a hostess to scan a QR code- giving them instant access to a custom menu of AR elements that they could play/pose with & enter a social media photo contest.
Our debut VR Activation at an event is featured in the 1 min video below.
It was a Multi-Player Art Experience where groups of 6 were guided in a quick crash course in the app MultiBrush & then co-created together.
We had 3 live hosts & 1 remote host. In addition to being a novel interactive activity for the company party, it was a collaborative experience. This can be executed in offices as a team-building activity as well. 
Client was Atomic VC & venue was Great Northern

VIVID was an ultraviolet interactive art installation that we produced for the legendary Halloween party at the Battery members club in SF 2022.  
It featured body painted models, a paintable UV tapestry, & our costumed entertainers parading & dancing there for a finale. 
Creative Producer: Audette with support from the Battery
The DeLight Installation was NYE 2022 & featured 2 Art Installations & a Creation Station where guests sat down & made wearable shareable intentions.
We gave out defraction film monocles (those glasses that turn all lights into rainbows) & had a silver cube full of lights & a futuristic goddess statue.
Creators: Audette & Rachelle with support from Vau de Vire Society
We created a colorful oasis of skin decor in the VIP Area at Insomniac's legendary Las Vegas electronic music festival event, EDC. 
A tent of artists outside & an air conditioned Airstream trailer (that we provided) were the locations for our Art Experience, which featured Face Paint,
Hair styling, & Airbrush to  guests. 
Tarot card reading is always a popular activity when we do it at events,
with long line forming.
This unique Tarot Wheel is our answer to that problem.. allowing 1 reader
to touch double or triple as many guests.
We have a variety configurations available that can scale up to very large events.
Concept & Design- by Audette for Catalyst Arts