Catalyst Arts elevates celebrations through wow-factor entertainment & experiential activations. 
We specialize in living decor, cirque & hospitality entertainers, & customized cutting-edge event styling. 
In addition to an outrageous costume warehouse & top-tier talent roster, we have a video production studio, Catalyst Studios with ever-expanding capabilities. 
We're ready to bring your most brilliant ideas to life!
We both Enchant & Impress your Guests with our high quality makeup & costumes.
We Engage your guests. We don't just design characters, we design Experiences.
We Customize our costuming, props, and interactivities to perfectly suit your theme & intention.
Remarkable Photos result from our creative entertainers & photo opps- adding to memorability & post event buzz.
Entertainment Booking & Custom Packages
Skin Décor- face paint, henna, airbrush etc… single MUA's to large team Glam Stations
Interaction Consultations: creative ideas for enhancing fun & participation at events
Catalyst Airship – 25 ft airstream makeover/production studio/VIP Lounge
Unique Media & Art Experiences at Events
Brand Activation, Game Shows & classy creative gorilla marketing services
I am a multi-faceted Creative & the executive director of Catalyst Arts.
I have extensive experience on both sides of events– as a performer & as a creative producer.
Working thousands of events over 20+ very colorful years I have figured out how to not just entertain but to Enchant.
To invite interaction & to Dazzle.
I have thousands of costumes, hundreds of performers, endless ideas, & a passion to push the envelope through artful experiences.
I am an Ace up my clients sleeves.
Our Team
Our Team also includes operations maeven /costume studio manager Tiffany Tijerina, production assistant Artemisia Spencer, admin/communications assistant Khanh Duong,
web developer Leo, photography maestros Peter Philips & Hunter Boucher, and a large roster of talented entertainment professionals.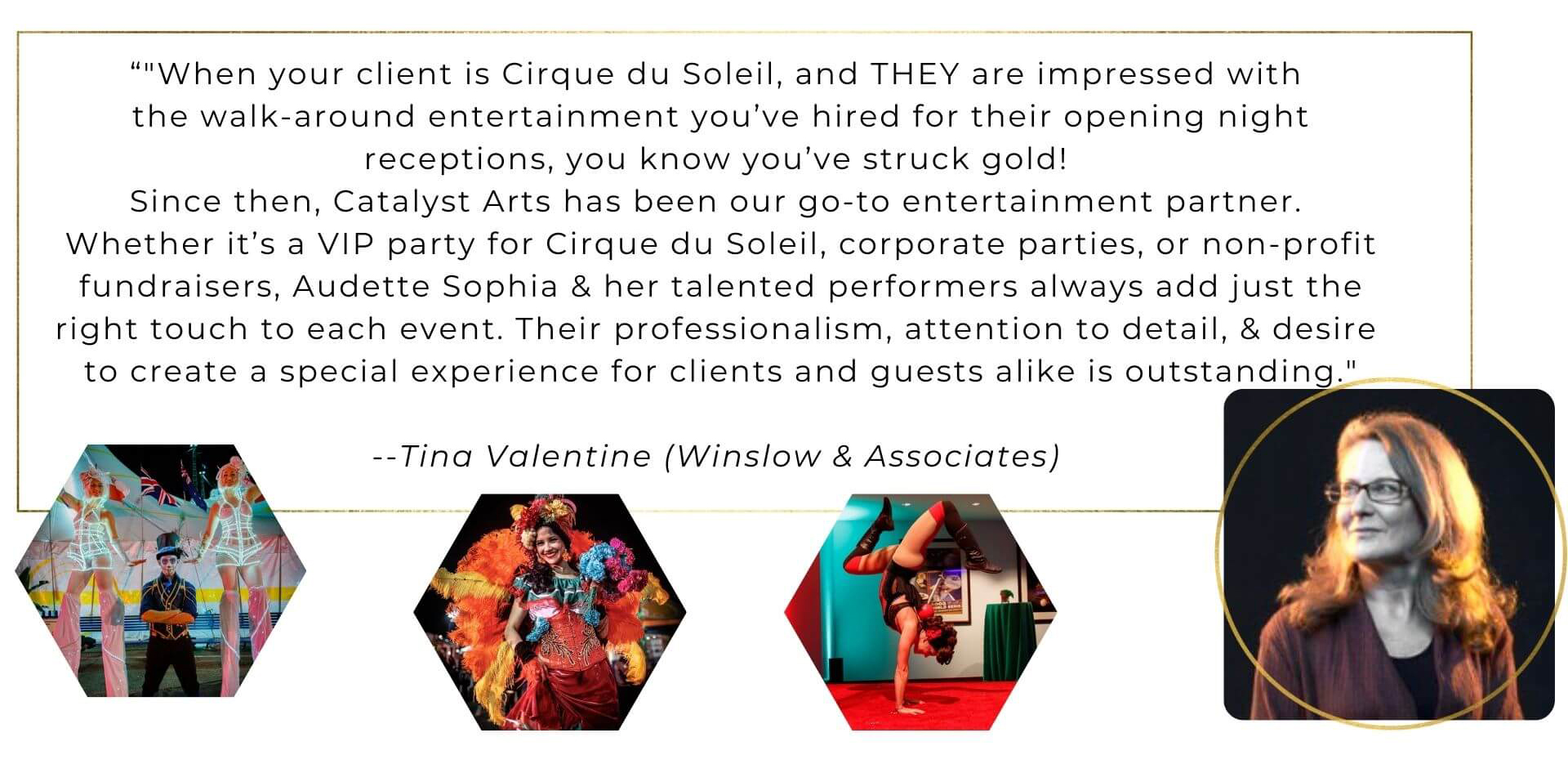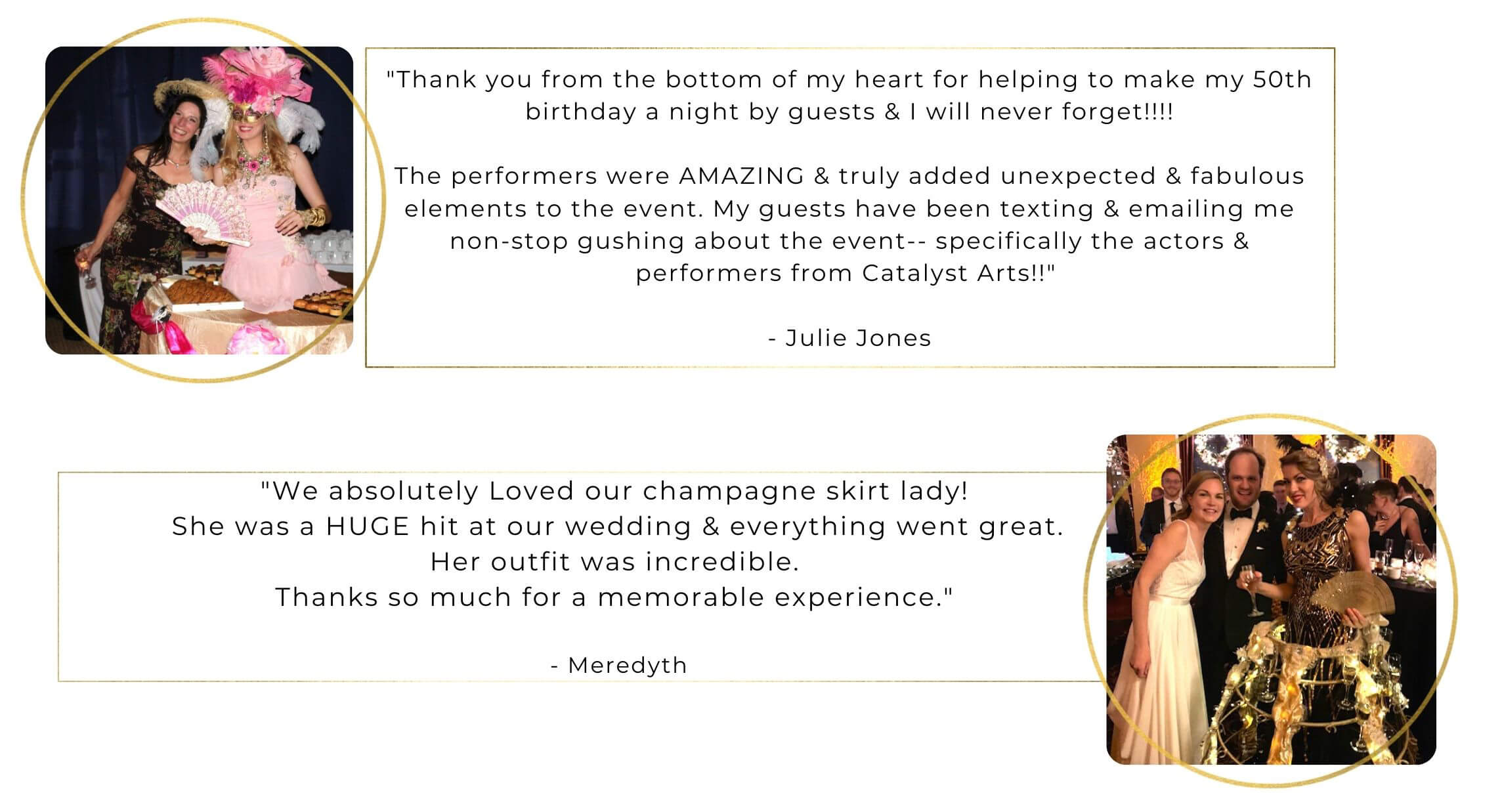 "Catalyst Arts is an amazing company that is always up to a new creative challenge. Any idea or concept you throw at them they can create, even at the last minute. Audette is extremely passionate about her company and only hires the best to work for her and your event. If you ever want to add that additional wow factor to make your event memory every lasting you should definitely rely on Catalyst Arts to make that magic happen! I speak from many years of using and trusting Audette's creativity and skills for all my events ranging from Debutant Balls to outrageous Corporate client parties
"If you are looking for entertainment that is genuinely interested in meeting the needs of their clients, look no further then Audette Sophia. She is a rare find – and enabled me to produce Grand Openings and Client Events of my dreams and within my budget and price range. I highly recommend Audette to anyone in the market for making a Special Event Extraordinary."